Magic of Lights Returns to the Fairgrounds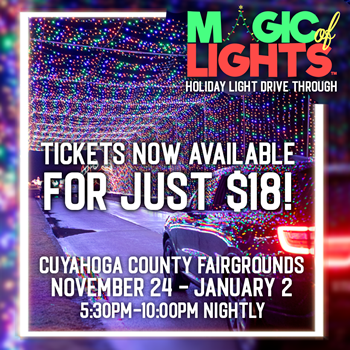 Magic of Lights returns to the Cuyahoga County Fairgrounds, November 24th, 2021 thru January 2nd, 2022. Now in its 7th year, this Family-Friendly Drive-Thru of Holiday Lights is for young and old alike. Come Join Us to celebrate the Grandest Holiday of the Year!
Discounted Tickets On-Sale Now at magicoflights.com/northeastohio.
Standby as more details becoming available soon!
---
A Message of Thanks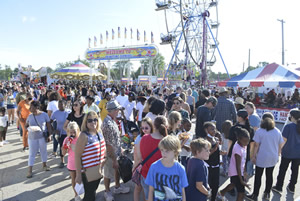 Thanks to all who came out to help celebrate the 124th Annual Cuyahoga County Fair. While we got off to a rough start with the weather, Fair-goers helped compensate for it by coming out in droves over the weekend, and for that, we extend out sincere gratitude. Whether you came for the elephant ears, the animals, arts, crafts, floral exhibits, rides, or one of our great concerts, your attendance makes all the work we do throughout the year in preparation for Fair week worthwhile.
Links to photos from this year's event can be found by hovering over the Gallery tab at the top of the page. Thanks to our intrepid photographer, Mark Horning, for the work he does to capture so many of the colorful moments that make the Fair such an historic, unique and wonderful event. Feel free to share his photos with family and friends. Our thanks once again for your patronage of the Fair, and we can't wait to see you again in 2022 for the 125th Annual Cuyahoga County Fair, which will be held Tuesday, August 9th thru Sunday, August 14th!
---
Notice!
ALL applicable CDC Guidelines and State of Ohio COVID-19 Safety Protocols will be in effect for all events held at the Cuyahoga County Fairgrounds. Entry to each event may be limited and masks and social distancing may be required. The Cuyahoga County Fairgrounds and its events reserve the right to deny entry or to remove anyone not in compliance with applicable safety protocols.
124th Annual Cuyahoga County Fair
AUGUST 10-15, 2021
---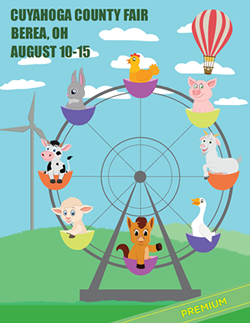 IMPORTANT NOTE: Open class entries can be submitted online. Animal entries cannot be submitted online. Junior Fair entries submitted online will be subject to the registration fees.
To submit entries via mail, download any of the following entry forms:
---
---
Attractions & Special Features