CUYAHOGA COUNTY AGRICULTURAL SOCIETY SCHOLARSHIP
The Board of Directors of the Cuyahoga County Agricultural Society announces the availability of a scholarship in the amount of $1,000.   The Cuyahoga County Fair Scholarship is open to any high school senior or current college student who is currently residing in Cuyahoga County.  Student must be applying to a post-secondary, 2 or 4 year accredited program or technical school.   Applicant must have participated in the Cuyahoga County Fair as an exhibitor or in a youth program two or more years prior to application.   Applications must be completed online. Submission deadline is 3:00 pm, Friday, July 1, 2022.
---
JIM MIKESINA SCHOLARSHIP
One $1,000 Scholarship is available to residents of Cuyahoga County for the 2021-2022 school year, who are pursuing a career in any first responder field. This includes the fields of law enforcement, fire, paramedic, or emergency medicine. Applications can be submitted online by clicking the button below. The deadline for applying is 3:00 pm on Friday, July 1, 2022.
---
CUYAHOGA COUNTY FAIR / CUYAHOGA COUNTY FARM BUREAU PARTNERSHIP SCHOLARSHIP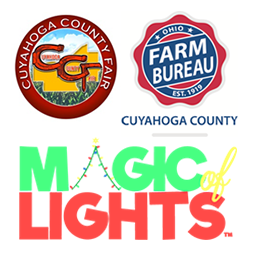 Cuyahoga county high school graduating seniors are invited to apply for the Cuyahoga County Fair/Cuyahoga Farm Bureau Partnership Scholarship.
This scholarship is available to all potential candidates on a non-discriminatory basis without regard to race, sex, ethnicity, creed, religion, sexual orientation, or disability.
One $1,000.00 scholarship is available to residents of Cuyahoga County made possible by a generous donation from The Magic of Lights Corporation. The scholarship will be awarded at the opening ceremony of the 2022 Cuyahoga County Fair on Tuesday, August 9. The recipient is encouraged to attend.
ENTRY REQUIREMENTS & INFO
The applicant must be a resident of Cuyahoga County who has participated as an exhibitor or in any participating youth organization at the Cuyahoga County Fair for a minimum of two years.
The applicant must be enrolled at an Ohio college, Ohio University or Ohio vocational school.
The application deadline is Friday, July 1, 2022.
Click here to fill out the online application or call 440-243-0090 for additional information.
---
If you have questions, contact Holly Everhart at ccfjrfair [at] yahoo.com.