What is the Junior Fair?
ABOUT JR. FAIR
Junior Fair is a chance for youth to express their creativity
Get recognition for achievement
Learn new things
Make new friends
Develop leadership abilities
And Have Fun!
Junior Fair "Safety is a Snap" Presentation
All youth involved in the Fair are put under the umbrella of Junior Fair. 4-H, Boy and Girl Scouts, Very Special Arts, and FFA are just a few of the organizations that make up Junior Fair. Individual boys and girls up to 18 years old are encouraged to be part of the Fair and the youth activities. The Junior Fair meets regularly during year to plan the activities, contests and demonstrations that are part of the week only venue. Call the Office for a schedule of meetings for the youth: 440/243-0090.

We hope to see you at the Jr. Fair building for awesome activities and contests all week!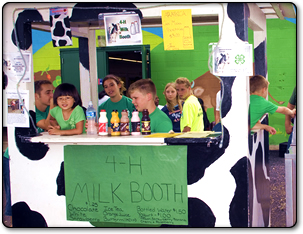 The future of the fair depends on turning children into life-long fairgoers by offering kid-friendly experiences and great competitive exhibit categories that encourage and reward youth involvement.
Participating Organizations of the Junior Fair include:
• Boy Scouts
• DeMolay
• Cleveland Metropolitan School District
• OSU Extension 4-H
• International Order of Rainbow for Girls
• Girl Scouts
If you have questions, contact Holly Everhart at ccfjrfair@yahoo.com.