2020 Scholarships
CUYAHOGA COUNTY AGRICULTURAL SOCIETY SCHOLARSHIP
The Board of Directors of the Cuyahoga County Agricultural Society announces one or more one thousand dollar scholarships. The Cuyahoga County Fair Scholarship is open to any high school senior or current college student who is currently residing in Cuyahoga County. Student must be applying to a post-secondary, 2 or 4 year accredited program or technical school. Applicant must have participated in the Cuyahoga County Fair as an exhibitor or in a youth program two or more years prior to application. Applications must be completed online. Submission deadline is 3:00 pm, Wednesday, July 1, 2020.
Click here to fill out the online application. For additional information, please call 440-243-0090.
JIM MIKESINA LAW ENFORCEMENT SCHOLARSHIP
The scholarship known as The Jim Mikesina Law Enforcement Scholarship is awarded in recognition of heroic acts while saving a man's life during the Cuyahoga County Fair. Details and criteria to apply for this scholarship is available on the Cuyahoga County Fair website. Only online applications will be accepted and must be received no later than 3:00 pm on Wednesday, July 1, 2020.
Click here to fill out the online application. For additional information, please call 440-243-0090.
CUYAHOGA COUNTY FAIR / CUYAHOGA COUNTY FARM BUREAU PARTNERSHIP SCHOLARSHIP
Cuyahoga county high school graduating seniors are invited to apply for the Cuyahoga County Fair/Cuyahoga Farm Bureau Partnership Scholarship.
This scholarship is available to all potential candidates on a non-discriminatory basis without regard to race, sex, ethnicity, creed, religion, sexual orientation, or disability.
One $1000.00 scholarship will be awarded at the opening ceremony of the 2020 Cuyahoga County Fair on Tuesday, August 11. The recipient is encouraged to attend.
ENTRY REQUIREMENTS & INFO
The applicant must be a resident of Cuyahoga County and has participated as an exhibitor or in any participating youth organization at the Cuyahoga County Fair for a minimum of one year.
The applicant must be enrolled at an Ohio college, Ohio University or Ohio vocational school.
Click here to fill out the online application or call 440-243-0090 for additional information.
What is the Junior Fair?
ABOUT JR. FAIR
Junior Fair is a chance for youth to express their creativity
Get recognition for achievement
Learn new things
Make new friends
Develop leadership abilities
And Have Fun!
Junior Fair "Safety is a Snap" Presentation
All youth involved in the Fair are put under the umbrella of Junior Fair. 4-H, Boy and Girl Scouts, Very Special Arts, and FFA are just a few of the organizations that make up Junior Fair. Individual boys and girls up to 18 years old are encouraged to be part of the Fair and the youth activities. The Junior Fair meets regularly during year to plan the activities, contests and demonstrations that are part of the week only venue. Call the Office for a schedule of meetings for the youth: 440/243-0090.

We hope to see you at the Jr. Fair building for awesome activities and contests all week!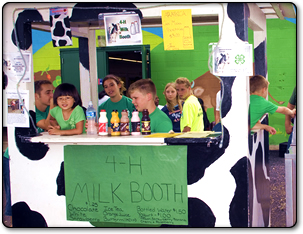 The future of the fair depends on turning children into life-long fairgoers by offering kid-friendly experiences and great competitive exhibit categories that encourage and reward youth involvement.
Participating Organizations of the Junior Fair include:
• Boy Scouts
• DeMolay
• Cleveland Metropolitan School District
• OSU Extension 4-H
• International Order of Rainbow for Girls
• Girl Scouts
If you have questions, contact Holly Everhart at ccfjrfair@yahoo.com.