Contacts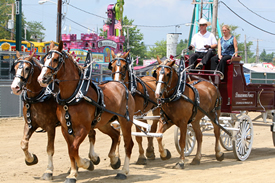 Draft Horses Halter & Hitch Classes: Dennis Eck, Director
Draft Ponies, Halter and Hitch Classes: Dennis Eck, Director
Horse Show: Gail Wind, Director
Harness Racing: Gail Wind, Director
---
Harness Racing

 When: Tuesday, August 6th, 2019 @ 4:00pm
 Where: Grandstand
 Race Info: Click Here
 Tickets: FREE Admission
RACE MEET NOT SCHEDULED FOR SUNDAY!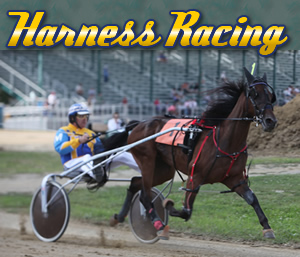 Come on out for Harness Racing at the Cuyahoga County Fair on Wednesday, August 6th, 2019.  Pick a pony, then pony up for some pari-mutuel wagering.
 So long as the track is safe for racing, this is a rain or shine event!
And if you're attending the Cuyahoga County Harness Races on Tuesday, August 6th, be sure to visit with MGM Northfield Park's Bob Roberts from 3:30PM-4:30PM at the Grandstand for Handicapping 101, in which Bob will offer insights on how to read a race program, while providing pari-mutuel wagering tips.
Bob Roberts is a native Clevelander who grew up in Willowick. He knew he wanted to be a sportswriter when his father took him to an Indians game and he asked who those guys were typing on a countertop behind home plate in the upper deck of old Municipal Stadium.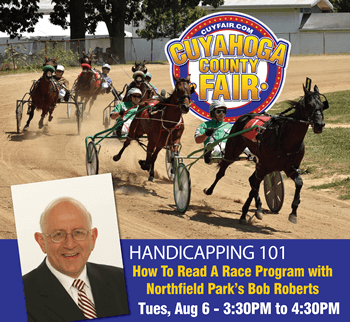 "They're sportswriters," said his dad. "That's their job." 
Roberts began his career at the Mentor Morning Monitor before heading over to The Willoughby/Lake County News-Herald where he was named sports editor in 1970 at the age of 22. Roberts was hired by The Cleveland Press in 1973 and returned to The News-Herald when the Press folded in 1982. The Cleveland Plain Dealer hired Bob in 1985 and he remained there for over 20 years before accepting a buyout in 2006. 
Roberts has won numerous awards. They include best harness story in North America, best Preakness story, a Golden Quill for feature writing in western Pennsylvania, and more than 10 state-wide writing awards in Ohio.
---
Horse Show
CUYAHOGA COUNTY FAIR HORSE SHOW
SATURDAY, AUGUST 10, 2019 8:00 AM (Academy Classes)
CUYAHOGA COUNTY FAIRGROUNDS, BEREA OHIO 44017
(Use Bagley Rd. Entrance follow drive to Horse Barn area)
JUDGE: Jodi Bertagnolli - Rices Landing, PA
ANNOUNCER: Andrea Gale ~ RINGMASTER: Malcolm Cole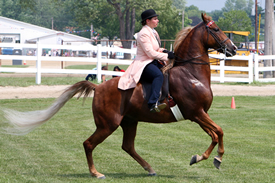 ALL AROUND HIGH POINT JUNIOR EXHIBITOR AWARD
PROVIDED BY VALLEY TACK SHOP
JACKPOT-ENGLISH-WESTERN - BIG DEES GIFT CARD
2019 Entry Form: Click Here
2019 Show Bill: Click Here
Sponsorship Form: Click Here
Entry Fee: $6 per class
Post-Entry Fee: $8 after August 1st.
Trophy & 6 Ribbons ~ Payback: $12/$10/$8/$6/$5/R with 6 or more entries
Jackpot Class Entry Fee: $12
Payback: 35%, 25%, 15%, 10%, 5%
EXHIBITORS IN HORSE/PONY SHOW MUST PURCHASE A $12 EXHIBITORS TICKET, which includes office fee and 2 passes to the Fair.
No paybacks for Academy, Equitation, Showmanship and Halter
No refunds once entries are made.
Entries close three (3) classes prior to class.
Class holds must be received in the show office 1/2 hour before
session begins.
All ACADEMY RIDERS must wear jodhpurs and boots with a long-sleeved shirt and tie. Vests are permitted. Leather gloves & whips are optional. Riders cannot show in any other performance classes. Six ribbons in all Academy classes.
Approved Point Show for:
ASHAO, OASPHA, Penn-Ohio, Central Ohio Saddle Club Assoc.,
Inter-State Horse Show Assoc. (Double Points), Inter County Horseman's Assoc.
ASHA High Point Awards and Kentucky State Fair World Championship Qualifying Show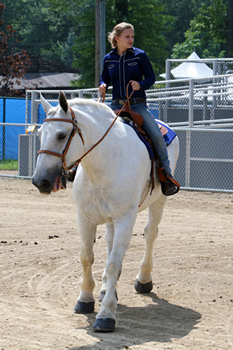 Full Class Sponsor: $10.00
1/2 Class Sponsor: $5.00
No Stallions are permitted in Junior Exhibitor classes, 18 and under. Limited Stalls available: $25 with advance payment to Cuyahoga County Fair, P.O. Box 135, Berea, OH 44017 before August 1st.
Gail Wind, DIRECTOR 216-676-5369
Ellen Vajda, SHOW SECRETARY 216-870-3267