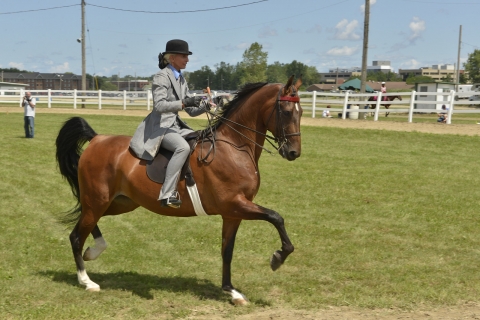 Event Date:
Sat, August 13, 2022,

8:00am

to

5:00pm
Horse Show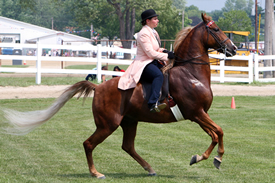 When: Saturday, August 13th, 2022 @ 8:00am
Where: Grandstand / Horse Ring
2022 Entry Form: To enter online, click here, or click here to download a blank entry form.
2022 Show Bill: Click Here
Sponsorship Form: Click Here
Please join us at our annual horse show for riders young and old! Our class for the youngest group is for children 6 and under. Classes are offered for many different types of riders including Academy Riders – children and adults who show horses they take riding lessons on, Youth classes – riders 17 years and younger competing to win the Youth High Point Award, English classes – for both Hunt and Saddle seat riders, Western classes, and the crowd favorite Costume class – where horse and rider participate in very creative costumes. We offer 6 qualifying classes for the American Saddlebred Horse Breeders Association (ASHBA) National Select Series region 5/6 Champion Show later this year. See a rare Cuyahoga County Horse show and as a bonus enjoy the FAIR!
CUYAHOGA COUNTY FAIR HORSE SHOW- Sat., August 13, 2022
CUYAHOGA COUNTY FAIRGROUNDS- BEREA OHIO 44017
JUDGE: Brian Yount
Announcer - Ellen Vajda -- Ringmaster - Darlene Nowak -- Secretary - Patti Schooley
- Entry Fee $8 per class -
Trophy & 6 Ribbons- Payback $12/$10/$8/$6/$5/R classes with 6 or more entries
JACKPOT CLASSES entry fee $12. Payback 35%, 25%, 15%, 10% 5%
Stalls available: $30
Mail Entries to - Cuyahoga County Fair, Box 135, Berea, OH 44017
On-line entry available @
Horseshowsonline.com
To exhibit at Horse Show you must purchase a $12 EXHIBITOR TICKET
which includes office fee and 2 passes to the Fair.
Classes w/less than 6 entries
RIBBONS ONLY NO PAYBACK except Jackpot
No Stallions permitted in Junior Exhibitor classes (17 & Under)
Academy, Halter, Showmanship, & Equitation classes NO PAYBACK
Official Show Photographer- Jeff Barnes Photography
ACADEMY SESSION SAM -

Academy Entries Close Friday 8/12@ 9PM
1A WTC Adult
2A. WTC 14-17
3A. WTC 13 & under
4A. WTC Pleasure all ages, all seats
SA. WIT Adult
6A. WIT 14-17
?A. WIT 11-13
8A. WIT9& 10
9A. WIT 8 & under
10A. WIT Pleasure all ages, all seats
11 A. WIT Leadline- 10 & Under
Class #1 NOT TO START BEFORE 9 AM
1
$$ JACKPOT $$ OPEN HALTER
2 Open Halter Horse
3 *Youth Open Halter 17 & Under H/P, E/W- M/G
4 *Youth Showmanship 17 & Under H/P, E/W- M/G
5 Reg. American Saddlebred Halter- Open
6 Open Pony Halter- 14.2 & Under -E/W- S/M/G
7 Appaloosa Open Halter
8 AQHA Open Halter
»10 MINUTE BREAK«
9 Ladies Side Saddle
10 Lead Line Equitation 6 & Under
11
$$JACKPOT$$ OPEN ENGLISH PLEASURE- Big Dee's Gift Card
12 *Walk-Trot Equitation 10 & Under H/P, E/W, M/G
13 Adult/Junior Exhibitor 5-Gaited Show Pleasure -
ASHBA National Select Series
14 Open English Equitation
* - Denote Point Class for Youth High Point Award
>>Riders who have cantered at this show are ineligible for Walk/Trot Classes on the same horse but; eligible on a different horse <<
ASHBA- ASHAO -INTER-STATE (Double Points)
INTER COUNTY- OASPHA **APPROVED POINT SHOW**
ALL AROUND HIGH POINT JUNIOR EXHIBITOR AWARD
PROVIDED BY Schneiders Saddlery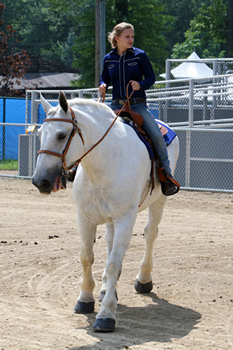 Eng.& West. Jackpot awards provided by
BIG DEE'S TACK & VET SUPPLY
Proper show attire required -- No Training devices allowed
The Cuyahoga County Fair Horse Show is a qualifying competition for the
2022 ASHBA High Point Awards
and the
2022 Region 5/6 ASHBA National Select Series Regional Championship Horse Show
.
Classes indicated as
ASHBA National Select Series are NOT
restricted to
ASHBA members - classes are
open to any ASB eligible for that class
15 English Road Hack Horse
16 Adult/Junior Exhibitor English Country Pleasure -
ASHBA Nat'l Select Series
17 * Walk-Trot Pleasure 10 & Under H/P, E/W, M/G
18 ASS Show/Country Pleasure Driving
19 English Pleasure - Open
20 *Walk-Trot Equitation/Horsemanship 11-17 H/P, E/W- M/G
21 Open Pleasure Driving - Horse or Pony
22 *English Pleasure 17 & Under Hunt or Saddle Seat H/P- M/G
23 Adult/Junior Exhibitor 3-Gaited Show Pleasure -
ASHBA National Select Series
24 ASS AOT Country/Show Pleasure Saddleseat
25 *Walk-Trot Pleasure 11-17 H/P, E/W- M/G
26 *Youth English Equitation 17 & Under Saddleseat or Hunt Seat H/P - M/G
27 ASS Park Pleasure
28 Friesian Walk/Trot Pleasure
»LUNCH BREAK«
29 Open Costume Class
30 Open Hunter Pleasure Horse
31 Paso Fino Pleasure Open
32 ASS Hunt Country Pleasure -
ASHBA National Select Series
33 English Bridle Path Horses
34 Appaloosa English Pleasure
35 ASS Adult/Junior Exhibitor Park-
ASHBA National Select Series
36 AQHA Hunter under Saddle
37 Paso Fino Performance Open
38
$$ JACKPOT $$ OPEN WESTERN PLEASURE - Big Dee's Gift Card
39 * Youth Western Horsemanship 17 & Under H/P - M/G
40 Walk-Trot Equitation/Horsemanship 18 & Over H/P, E/W- M/G
41 Western Pleasure Horse - Open
42 Jack Benny Pleasure 39 yrs. & over H/P, E/W
43 Ladies Western Pleasure 18 & Over
44 * Youth Western Pleasure 17 & Under H/P- M/G
45 ASB Western Pleasure -
ASHBA National Select Series
46 Open Easy Gaited Pleasure (No Canter) - 2 Gait -S/M/G
47 Appaloosa Western Pleasure
48 Walk-Trot Pleasure 18 & Over H/P, E/W- M/G
49 Egg & Spoon
50 AQHA Western Pleasure  
Gail Wind
Horse Show Director
216-676-5369
Ellen Vajda
Horse Show Superintendent
216-870-3267