Service Event to Support Australian Wildlife
We will be creating bat wraps, koala mittens, joey pouches, animal slings and beds. Everyone is welcome, you do not have to be a member of 4-H.
SATURDAY,  JANUARY 25, 2020
10:00AM - 3:00PM
CUYAHOGA COUNTY FAIR GROUNDS - BUILDING #25
No sewing experience required. You can sew or help cut out pattern pieces. Bring a sewing machine, scissors and pins if you have them. We are accepting donations of 100% cotton material and poly-fill batting. Join us for one hour or for the whole day. For more information or to register for the event, please contact Robin Stone - stone.363 [at] osu.edu or Kirsten Pianka- pianka.1 [at] osu.edu.
To download the flyer,  click here.
---
Scholarship Opportunities
The Cuyahoga County Fair is excited to announce that in 2020 we'll be accepting applications for three separate scholarship opportunities:
Cuyahoga County Agricultural Society Scholarship
The Jim Mikesina Law Enforcement Scholarship
Cuyahoga County Fair/Cuyahoga Farm Bureau Partnership Scholarship
To view information about the scholarships, and to access links for online entry,  click here.
---
A Message of Thanks
Thanks to all who came out to help celebrate the 123rd Cuyahoga County Fair. Whether you came for the elephant ears, the animals, demo derby, arts, crafts, floral exhibits, rides, or one of our great concerts, your attendance makes all the work we do throughout the year in preparation for Fair week worthwhile.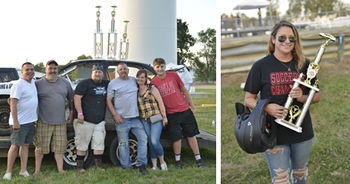 Special congratulations to the winners of our Demolition Derby:
Demolition Derby Finals Winners
    • 1st: Super Bob Erich
    • 2nd: Ashley Sapiorary
Demolition Derby Heat Winners
    • Heat 1: Gary Chapman
    • Heat 2: Super Bob Erich
    • Heat 3: Jesse Bear
Links to photos from this year's event can be found by hovering over the Gallery tab at the top of the page. Feel free to share with family and friends. Our thanks again for your patronage of this historic regional event, and we look forward to seeing you all out again for the 124th Cuyahoga County Fair in 2020!
124th Annual Cuyahoga County Fair
August 11-16, 2020
FAIR HOURS
TUES-FRI: NOON-11:00PM
SAT: 10:00AM-11:00PM
SUN: NOON-10:00PM
---