2020 Demo Derby Planning Meeting
Dear Demolition Derby Drivers,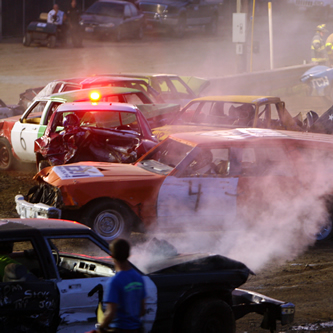 Come join us and help take part in the planning of the 2020 Cuyahoga County Fair Demolition Derby. We will be having a driver's meeting at the Cuyahoga Count Fair in Berea, Ohio on Saturday, October 19th at 2:00pm.  The meeting will be held in the Fair Board Office (Building 32 on this map), and participants will need to use the Eastland Road entrance.
At this meeting, we will be discussing Demolition Derby rules, types of vehicles used, along with events. In addition to that, we are planning on going to one evening show in hopes of growing the derby to 25 or more vehicles. Also, answering any questions or concerns that you may have.
We are hoping that many of our valued Derby Drivers will attend. Feel free to bring along others who may have an interest in running in our derby too! If you have any questions before the meeting on Saturday, October 19th, please feel free to send an email to jmp [at] derbyinfo.net and we'll get back to you as soon as possible.
Have a great day and we look forward to seeing you at the fairgrounds.
Sincerely,
W. Jay Milligan
President
P.S. Refreshments will be served!!
---
Help Wanted - Chief of Police (PT)
Cuyahoga County Agriculture Society/Fairgrounds
Berea, Ohio
The Cuyahoga County Agriculture Society is seeking a Chief of Police. The Chief plans and directs operations of the Police Department which includes a Patrol Division of 5 Sergeants And 25-35 Patrol Officers.
The Chief of Police reports to the Director of Safety.
Qualifications
EDUCATION: Associates degree in law enforcement or credits toward a bachelor's degree equivalent to 2 years, or Board Certification in an advanced law enforcement area.
Completion of the Ohio Peace Officer Basic training course.
Must have at least 10 years as a sworn police officer with at least 5 years in a position of Lieutenant or higher.
Must be a resident of Cuyahoga County Ohio, per O.R.C. (1901.141)
Must not have any Felony convictions or Domestic Violence convictions.
Must not have had a DUI conviction within the last 5 years.
Must pass an FBI/BCI background check.
This position will be open for resumes from October 14, 2019 until October 31, 2019 for internal and external applicants.
Please submit your resumes to:
Cuyahoga County Agriculture Society
Att: Human Resource Dept.
P.O. Box 135
Berea, Ohio 44017
---
A Message of Thanks
Thanks to all who came out to help celebrate the 123rd Cuyahoga County Fair. Whether you came for the elephant ears, the animals, demo derby, arts, crafts, floral exhibits, rides, or one of our great concerts, your attendance makes all the work we do throughout the year in preparation for Fair week worthwhile.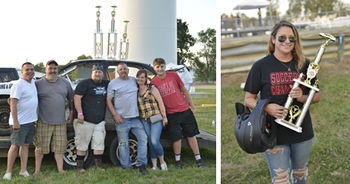 Special congratulations to the winners of our Demolition Derby:
Demolition Derby Finals Winners
    • 1st: Super Bob Erich
    • 2nd: Ashley Sapiorary
Demolition Derby Heat Winners
    • Heat 1: Gary Chapman
    • Heat 2: Super Bob Erich
    • Heat 3: Jesse Bear
Links to photos from this year's event can be found by hovering over the Gallery tab at the top of the page. Feel free to share with family and friends. Our thanks again for your patronage of this historic regional event, and we look forward to seeing you all out again for the 124th Cuyahoga County Fair in 2020!
124th Annual Cuyahoga County Fair
August 11-16, 2020
FAIR HOURS
TUES-FRI: NOON-11:00PM
SAT: 10:00AM-11:00PM
SUN: NOON-10:00PM
---