FEATURED EVENT: MAGIC OF LIGHTS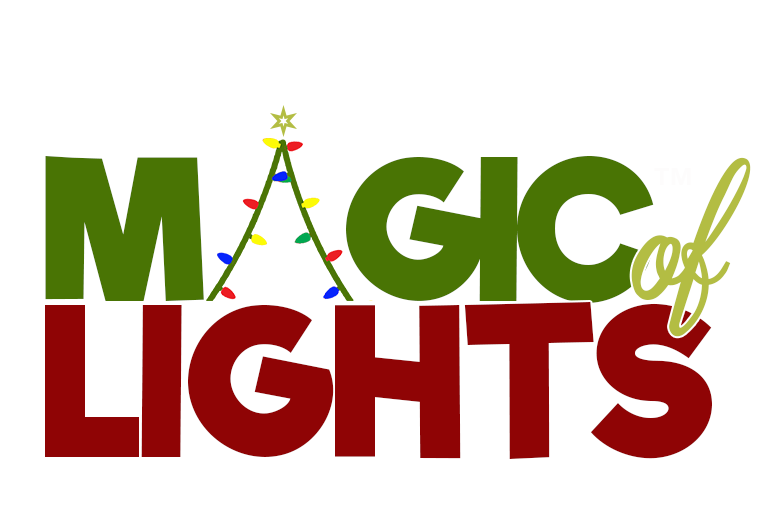 Northeast Ohio's largest holiday light show, Magic of Lights, is now at the Cuyahoga County Fairgrounds!
After two successful years at Victory Park in North Ridgeville, Magic of Lights has a new home at The Cuyahoga County Fairgrounds. The changing of venues allows Magic of Lights to expand the show, increase the number of static and animated light displays, improve traffic flow and enhance the overall holiday experience for all to enjoy.
Magic of Lights now includes an interactive, out-of-vehicle experience, the Jolly Holiday Village. On select dates, this festive village gifts visitors an opportunity to embrace the joyous season with a variety of themed activities, sweet treats and visits from Santa.
"Cuyahoga County Fairgrounds has become known for hosting some of Northeast Ohio's premier family-friendly events and we are incredibly proud to add "Magic of Lights" to that list! The new, more accessible location will enable attendees from all over Northeast Ohio to partake of the festivities, while making The Cuyahoga County Fairgrounds "A Must Visit" for not just spring, summer and fall events, but also now for the winter holidays!"

– Candyce Traci, PR & Media Ambassador/Cuyahoga County Fair
Giving back to the community is an integral part of Magic of Lights. In 2017, Magic of Lights donated more than $13,500 to local children's charities and foodbanks. To make an ever-greater charitable impact in Northeast Ohio, this year Magic of Lights is proudly partnering with the Lebron James Family Foundation and Cuyahoga Farm Bureau scholarship program.
Magic of Lights opens November 16 and will run every day through December 31, from 5:30pm-9pm Monday-Thursday, and 5:30pm-10pm Friday-Sunday. Event information, pricing and sponsorship opportunities can be found at magicoflights.com.
THANKS FOR YOUR SUPPORT
Thanks to all who came out to help celebrate the 122nd Cuyahoga County Fair. Whether you came for the elephant ears, the animals, demo derby, arts, crafts, floral exhibits, rides, or one of our great concerts, your attendance makes all the work we do throughout the year in preparation for Fair week worthwhile.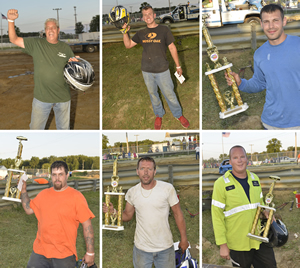 Special congratulations to the winners of our Demolition Derby:
Demolition Derby Finals Winners
    • 1st: Ken Volpe
    • 2nd: Kyle White
Demolition Derby Heat Winners
    • Heat 1: Rick Funk
    • Heat 2: Jesse Ben
    • Heat 3: Hiram Smith Jr.
    • Heat 4: Dave Quibic
    • Heat 5: Dan Tomasko
Links to photos from this year's event can be found by hovering over the Gallery tab at the top of the page. Feel free to share with family and friends. Our thanks again for your patronage of this historic regional event, and we look forward to seeing you all out again for the 123rd Cuyahoga County Fair in 2019!
2018 CUYAHOGA COUNTY FAIR T-SHIRTS NOW AVAILABLE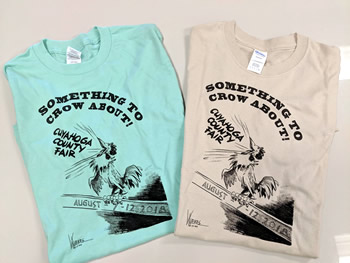 2018 Cuyahoga County Fair "Something To Crow About" Tee-Shirt
The 2018 Cuyahoga County Fair "Something To Crow About" Tee-Shirts are now on-sale at the Cuyahoga County Fairboard Office. With sizes ranging from Small to XXXL in both Mint and Tan, you will certainly be the "Rooster About Town" in your new tee-shirt! Heck, buy one for the whole family!
123rd Annual Cuyahoga County Fair
August 6-11, 2019
FAIR HOURS
TUES-FRI: NOON-11:00PM
SAT: 10:00AM-11:00PM
SUN: NOON-10:00PM
---