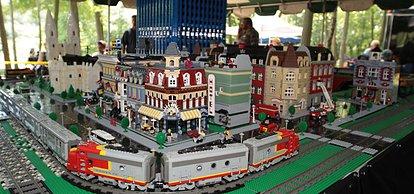 Event Date:
Thu, August 9, 2018,

1:00pm

to

8:00pm
Members of NEOLUG will present their fantastic LEGO® brick creations ranging from models of existing items to the realms of fantasy and imagination.  There will also be a LEGO® train layout with running trains and a six foot tall skyscraper!
NEOLUG Info:
| NE – oh – lug| noun.  A group of adult hobbyists sharing and celebrating their passion for building with interlocking plastic bricks… specifically LEGO® brand bricks.
NEOLUG was formed in 2010 as a group of adult hobbyists sharing their passion for building with LEGO® in the North Eastern Ohio and Western Pennsylvania region to interact and share their love of LEGO® bricks with others. We currently have about 30 members that build just about any theme and come together for events and other displays. We can do art shows, sci-fi, train, city, and just about any other type of event. You can see our range by looking through past events. Not being restricted as a club to one theme allows us to have more members with different types of Lego® creations.