GEARING UP FOR 2017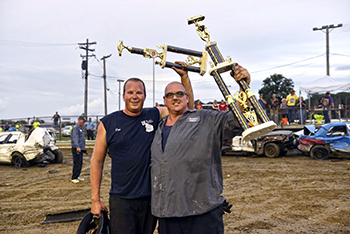 2016 Demo Derby Champion Lenny W. Rogers (right), and runner up Dan Tomasko (left)
The Cuyahoga County Fair is gearing up for another great year in 2017.  We're currently in the process of scheduling our entertainment, so check back often for the latest news.  In the mean time, be sure to check out all the other festivals and events taking place at the Cuyahoga County Fairgrounds.
County Fair Chronicle
March, 2017
Cuyahoga County Fair
POLICE OFFICER RECOGNIZED BY LOCAL CHAPTER OF RED CROSS FOR SAVING LIFE OF FELLOW FAIR WORKER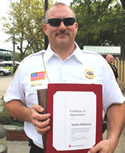 We are so incredibly proud of our track record over the years of very few incidents during fair week with our goal that any negatives can be met with positive outcomes. Our story of James Mikesina signifies that.
James, who has served as an officer during fair week for over 20 years, saved the life of a fellow fair worker who had received an electric shock on the last day of the 2016 County Fair. Many concerned onlookers seemed to feel his service was nothing short of a miracle as he administered no less than 400 chest compressions. Holding a CPR Instructor Certification – he credits his training to the good people of the American Red Cross.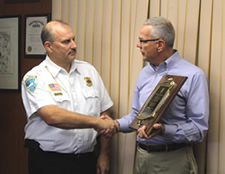 With that, the Cuyahoga County Fair Board recognized his efforts with plaque presentation along with a visit from the local chapter of the American Red Cross presenting their own certificate of merit.
The plaque presented says it all:
In recognition of your Extraordinary Lifesaving Heroism in the Line-of-Duty on August 14th, 2016 without regard for your own safety. Your dedication to Cuyahoga County Fair and its patrons are truly appreciated. Your professionalism, training & bravery are tremendous assets to us all.
 
FAIR PROUD TO HOST PRESIDENT OF IAFE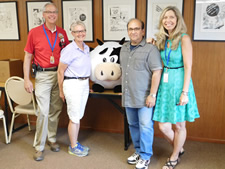 The Cuyahoga County Fair was honored to host Marla Calico, President/CEO of the International Association of Fairs and Expositions (IAFE) in 2016.
She was most impressed with seeing both the Sustainability Center and newly developed South Midway introduced in 2015, as well as in experiencing first-hand the ethnic diversity of this county fair which has received accolades for minimal incidents over the years.
According to Fair President, Tim Fowler, a visit from the staff of the IAFE is quite prestigious in that the association has nearly 1,200 members worldwide with only a handful visited in any given year. "As we celebrated our 120th year at the county fairgrounds in Berea, we were excited to show Ms. Calico the dedication and pride that has gone in sustaining these fairgrounds and to share the many reasons attendees make the Cuyahoga County Fair an annual tradition."
 
LOCAL TEEN MAKES MOST OF REIGN AS FAIR QUEEN
Belinda Rickman, our 2016 Cuyahoga County Fair Queen has had quite an amazing year following her crowning last August.  She holds her reigning queen status in high-regard in representation of the fair. In the first 5 months of her crowning, she traveled over 6,300 miles, put in 273 hours and attended 57 county fairs and festivals. "That was just the beginning for me," she states, "as I plan to continue my travels again starting in June with my goal to visit all county fairs before my reign is over."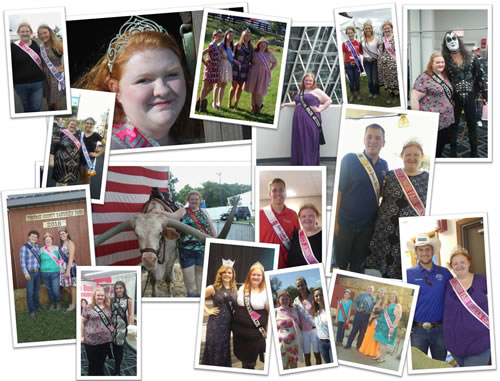 Her photo collage shares with us just some of the many interesting encounters she's had during her travels. From judging a goat queen show in Allen County to attending the smallest fair in Albany to outrunning a tornado with her mom in Darke County – she has seen it all and is very happy her crowning didn't include having to kiss a frog like the reigning Queen at Geauga County Fair. "Every minute has been an adventure and I am thankful for the opportunity," Belinda concludes.
Her representation of the fair means so much to her that she and her family have offered to sponsor the crowns for those named fair queens over the next several years. This would make her father very proud as his passing occurred before her crowning. Belinda states, "This sponsorship will be my family's way to remember him in a very special way."
 
COUNTY FAIR MARKETING & PR TEAM RECOGNIZED AT BOTH INTERNATIONAL LEVEL AND STATE CONVENTION - TAKING 8 OF 10 AWARDS + BEST OF SHOW IN COLUMBUS!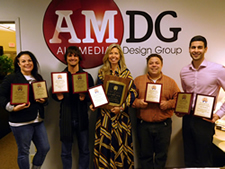 At International Association of Festivals & Events – Las Vegas 2016:
3rd Place – Full-Color Newspaper Ad
At Ohio Fair Managers Association Convention – Columbus 2016:
Newspaper Ad – 2nd Place
Radio Ad – 1st Place
TV Ad – 1st Place
Newspaper Flyer – 1st Place
Website – 1st Place
Premium Book Cover – 1st Place
Fair Newsletter – 1st Place
Printed Promotional – 1st Place
Best of Show (Fair Book Cover)
---